Testimonials
10th January 2011 - Thankyou note from a barista course customer.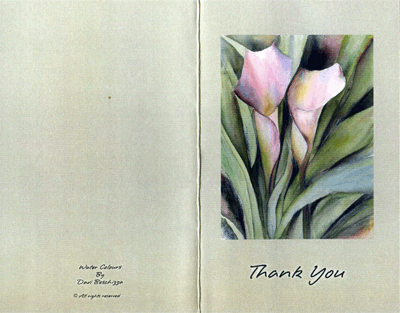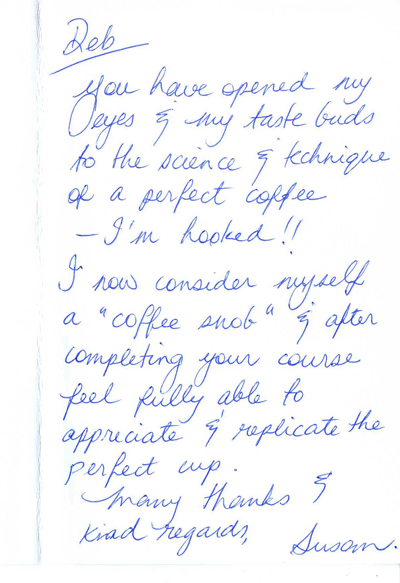 ---
The information and practical demonstration was done in such a way that it was easy to learn without being intimidated and the results were amazing. I am now confident enough to practice at home and make coffee that are as good as any made in a coffee shop!
I would thoroughly recommend the course to anyone who appreciates fine coffee and meeting such great people as Debbie and Charlie!
Richard G.
Barista Course Feedback: 14th May 2011
---
Dear Debbie and Charlie,
Thank you so much for opening my eyes to making coffee. Having had an expensive home set up (giotto plus grinder) for 5 years and through trial and error, I thought I made a pretty good cup and so did my guests. Now having done your private barista course - how wrong I was. My coffees are now a hundred times better and I''ve unlocked the potential in my equipment (should have spent my money with your barista course before the machinery). With due humility, I used to make good coffees at home to save money...now I have to make it at home as it''s unlikely I''ll find a better cup outside.
See you for my refresher in a few months.
Kevin H.
23/9/2010
---
Hi Debbie,
I just wanted to say a huge thank you to you. I an absolutely thrilled with the Rancilio Silvia machine I bought from you, and even more delighted with the private Barista lesson you gave me.
It is such a pleasure to be able to get up every morning and make myself a cafe quality latte in the comfort of my own kitchen. Thank you so much!
Please feel free to use my comments for your marketing purposes. I am so happy with the results, I would be delighted for others to avail of your wonderful services too.
Kind regards,
Anne C.
Sent from my iPhone
---
Hi Charlie,
Thanks for the repair. Machine works a treat. Coffee has made an immediate difference to the brewing experience. Didn't think the machine made coffee like this.
Thanks,
Jeff
---
Dear Deb, Charlie and the team at Jetblack Espresso,
Thank you for a wonderful espresso filled morning. Megan and I were both impressed with your presentation and the flow of the session. It was thoroughly professional.
The things we learned this morning have added to our at home coffee experience and we will keep you in mind when referring friends and family.
The sourness and cloud lattes have happily been replaced with God shots and rosettas!
Many thanks
James & Megan
---
Hi Charlie and Debbie,
just wanted to thank you for your invaluable assistance in getting up and running with our home espresso setup. Having bought the equipment, we expected great results immediately. However, it was only after attending your Barista course that we started to achieve some truly satisfactory results and we are now producing consistently good coffees.
Even Holly, our 13 year old daughter has started drinking coffee !
Many thanks,
David and Jill
---
Charlie & Debbie,
I just wanted to say thanks for your advice and support as I learn how to produce the perfect cup of coffee!
Firstly the 3 hour course was terrific – it was aimed at the perfect level for me as a keen beginner - with just the right amount of balance on the different elements of theory, pulling the perfect espresso and getting the milk just. I really did enjoy the session and have been actively recommending it to friends and colleagues.
But you have subsequently gone above and beyond my expectations when, on two occasions I have "dropped in" to Jetblack to ask your advice. On both occasions I was merely after your counsel – but you both offered your time and expertise and stood with me at a machine to ensure I got to the next level. Your willingness to look after your customers after the sale will certainly ensure the ongoing success of your business.
Thanks again and best wishes
Brian Holder
---
Hi Deb & Charlie
Great course, I learnt more about coffee and its making in two hours than I did in my entire life. Couldn't be happier with my new espresso machine and grinder, my friends are very impressed, and love my coffee from home.
Thanks again
Brian
---
Course should be compulsory with all coffee machine purchases.
Robin
---
Hi Debbie
I'd like to let you know how happy everyone is with your espresso machine.
They are all fast becoming coffee snobs. The grinder is great & your coffee blend is excellent.
Thanks again
Craig
---
Nice orderly flow of presentation. Excellent student teacher ratio. Will be recommending to other home coffee strugglers!
James