---
Calculate Shipping
---
Free Shipping
- $0.00
Free Shipping on selected items! Available for Metro locations only.
---
Pickup In Store
- $0.00
Pickup from our showroom in French's Forest.
Shipping terms
Free Australian Metro Delivery
This is for the soon to be released 2017 version of the R58, you can find the current R58 here.
The R58 is a dual boiler espresso machine featuring PID temperature control, full commercial rotary pump, and the option of using a direct water connection or the water reservoir supply. Independently operating dual boilers and superior thermo siphon system design allows for unprecedented stability in the espresso boiler with increased levels of both steam pressure and hot water supply available from the independent service boiler. This model features the two-piece adjustable feet formerly only available on the R60V.
Rocket Espresso styling and build quality. Espresso without compromise.
Others Also Browsed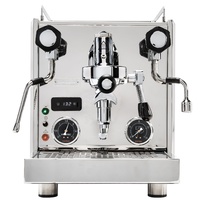 (60069/) (Is kit: 0 - n)
| | |
| --- | --- |
| SKU | 60069 |
| Brand | Rocket |
| Shipping Weight | 38.0kg |
| Shipping Width | 0.50m |
| Shipping Height | 0.55m |
| Shipping Length | 0.39m |
| Shipping Cubic | 0.11m3 |
R58 - Better than sliced bread

18 October 2017

OK, prior to the R58 I had one of those slightly upmarket dual thermoblock things sold by the usual suspect machine makers. And I thought I was doing OK. I knew it wasn't doing milk steaming right, but as a black coffee drinker I could live with that (ignoring the harassment from my wife). And to be fair to that old machine, it was a lot cheaper and lasted just shy of ten years. In the last few years I was really looking for upgrades and was cursing it not dying, but it did last 9 years and 8 months. Of kinda OK coffee. First day I got the Rocket, first shot, so just guessing at grind and dose, was (at that time) the best shot I'd ever pulled. By a significant margin. I was not expecting such a huge difference in the shots, but this is like day and night. I was expecting differences in the steam wand, and it's certainly delivered there as well. Instead of struggling to get milk movement, I'm now struggling to keep the milk in the jug. There's a lot of steam. Absolutely no trouble steaming any size jug. It'd probably be OK steaming a bucket of milk. There's plenty of videos out comparing this to similar dual boiler machines detailing the pros and cons vs those. I had my heart set on the rocket for a few reasons. But probably due to it being the only dual boiler, rotary pump machine I could find when I started looking a few years ago, that would actually fit the area I have designated for a machine in my kitchen. Obviously there's commercial machines, but they're all pretty big. And I don't really need plumbing for a few coffees a day, so having a dual water source option was preferred. The fit and finish helps. Although it now makes the rest of the kitchen look a bit on the cheap side. I can live with that though. :D The one thing I'd add if Rocket are listening is a warning of low water status before it stops the pumps. EG: maybe the OK light can flash at "almost out" instead of "out". It would mean two water level sensors I'm guessing. And would be wasted on anyone plumbing it in. I suspect I'll just get in the habit of topping up the water while it's heating up.




(5)
---
Add a starter kit
---
Package with a grinder
---
Others Also Bought